there was a time when music wasn't so accessible to everyone as it is now. i know, because i grew up during that time. kids today are pretty lucky that everything is now available in the internet (unless the creators didn't make it available in your country. ugh). if you liked a song and didn't know the title, you can open an application on your phone so that it can figure out the song title for you. if you wanted to do your own versions of songs, all you have to do is get your phone, a guitar or keyboards, and sing. a few minutes later it's in youtube. no matter how bad it is, it is there for everyone's consumption, immortalized. everything's on hashtag now, whatever it is for (i know it is for "trending" purposes, for easy searches, but that's the point, i want to stay hidden). kids today will never know the difficulty of waiting for a song on the radio, just so they can record the song or write down the lyrics while the song is playing.
those were good times.
i think my first tape was Janet Jackson's Rhythm Nation 1814. that, or the P60 tape of
Randy Santiago
, which had two songs,
Hindi Magbabago
and
Para Sa'Yo
and their minus-one versions on side B. i saved up for my tapes, allocating a portion of my allowance to buy either a music cassette or a good book. i didn't have the luxury of mommy or daddy's credit card. you want it, you have to earn it. i bought tapes of whoever was famous at the time. i was a kid, after all, and listened to stuff everyone was in to, just so i could fit in. the tapes were varied and diverse, from FrancisM (God rest his soul) to Color Me Badd, until i got introduced to what i would consider better stuff like Alanis Morissette, The Eraserheads, Pearl Jam. U2.
i didn't know whether to sort by artist, color code or group by genre.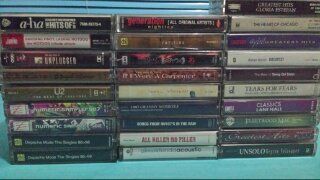 as i was growing up, i was very much into new wave music, only i didn't know they called it new wave then. when i caught up, they didn't have the albums out anymore and all i got to were the "best ofs". although i did give away my Some Great Reward album to my high school classmate who probably threw it away after Somebody didn't get him the girl he was courting. i also missed the gigs when Duran Duran, a-Ha and Depeche Mode were here but i made sure i saw
Tears for Fears
when they came back.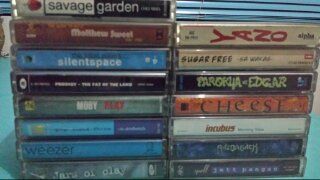 i remember looking for Sandwich's album in the music stores when Grip, Stand, Throw came out and the lady kept on giving me Savage Garden. seriously, lady, there's a difference: one is local, two syllables, the other, foreign, four syllables. where is Moby now? of course, Cheese became Queso, then Wilabaliw. after a brief solo stint, Jett Pangan reunited with the other members of The Dawn. Dong Abay is still very much around, they made a play based on Sugar Free's songs and Parokya still drinks beer.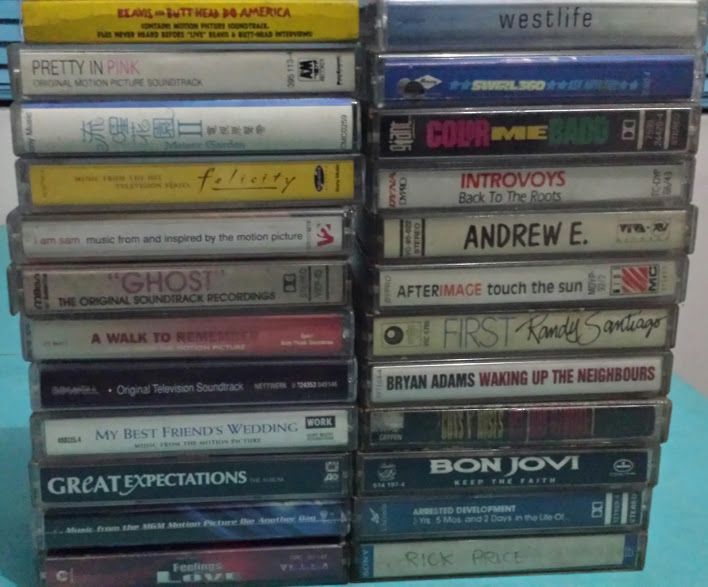 yes, that is Meteor Garden's OST right next to Color Me Badd, just right below the Pretty in Pink OST. yes, that is Westlife. Swirl360? we all thought that Mandy Moore was a good actress after Only Hope, err, A Walk to Remember, came out. they're doing a local version of the musical based on the movie Ghost.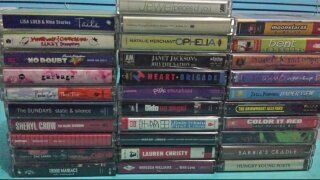 where is Bent now, i don't know. maybe they've gotten old, knocked up and said goodbye to their rock and roll dreams forever. Moonpools and Caterpillars came over to Manila this week, and i was at work. Fatal Posporos became Cambio, then Duster. Brownbeat AllStars vocalist Myra now owns a bar somewhere. Barbie is married, has kids and doing duets with Sharon Cuneta. Sheryl Crow survived cancer.
Cynthia Alexander
is now in Seattle.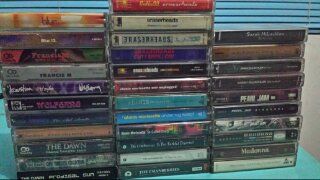 when the difference in cost between tapes and cds became less, i switched to cds. i even bought cds of artists i already had tapes to. foreign cds are still more expensive compared to the ones out by local artists but if i feel strongly about the artist, i'd get them anyway. i have the Jagged Little Pill on tape and cd and i even got the ten-year anniversary acoustic version of the album. i have Mirrorball both on tape and cd and i have The Dawn's lounge album. i'd watch a gig and buy the cd of that artist. it makes me a little proud that i was listening to them before everybody else caught on. we have to support the independent music industry.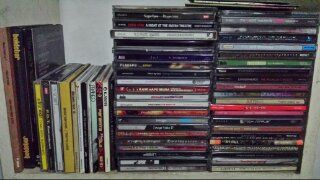 stacking them all took me back to the time when i first bought them, listened to them, talked about them. it's sad that where i might go, i cannot take them with me. i hope to be able to. of course you have your itunes and mp3 players with you. i don't even have a player for these anymore.
the technology may have improved the way we listen to music now but it doesn't replace what we felt back then when we first heard the songs. why else will so-so artists launch their careers reviving an old but really great song? the feelings we had, the memories, they will stay with us forever.