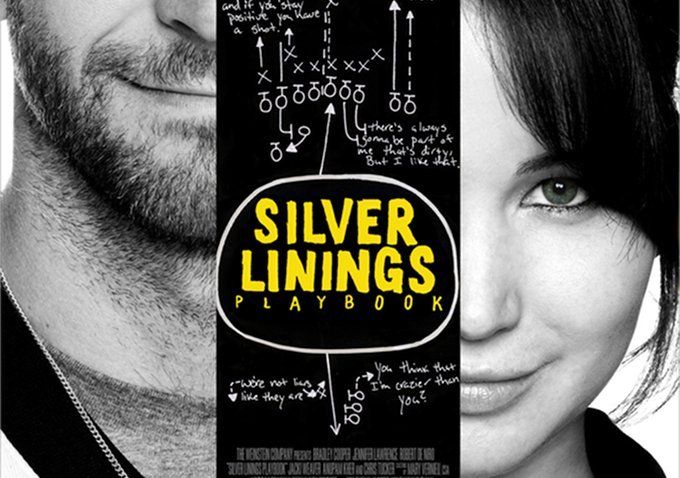 Bradley Cooper plays Pat Solitano, a man with bipolar disorder who is released from a psychiatric hospital and moves back in with his parents (Robert De Niro and Jacki Weaver). determined to win back his estranged wife, Pat meets recently-widowed sex addict Tiffany Maxwell (Jennifer Lawrence), who tells him that she will help him get her back if he enters a dance competition with her. the two become closer as they train and this bothers Pat's father, as Pat Sr. thinks that all the time they spend together ruins the Philadelphia Eagles' chances in the football championship. both examine their relationships with each other as they cope with their disorders.

you'd think the movie ends in tragedy, but it is actually a romantic-comedy.

at most, Pat is delusional: jogging and trying his best to lose weight and be "normal" so that he can win back his ex-wife but Stevie Wonder's My Cherie Amour still sets him off. Tiffany, on the other hand, tries to give Pat the false hope that she can help him get back together with Nikki, just so she can have a dance partner. dancing is, after all, good therapy for her, if she's not sleeping around to get over her husband's death.

a friend once told me that i might be bipolar. of course, he wasn't a professional but i'm afraid of seeking medical attention on the off-chance that he might be right. i'm still able to handle stuff, you know, like give sane and sound advice to other people, i get the job done and i'm a contributing member of society so i'm alright. i stopped acting out, slitting my wrists and sleeping around a long time ago. hell, i sure could use the exercise.

i can always enroll in dance class. that or kickboxing. we do need to channel all that pent up anger.

anyway, i digress: the story is another example of how you always look too far and try too hard to get someone who doesn't give a rat's ass about you when all you're looking for is just right there in front of you. that's what Tiffany was trying to do and it took a while before Pat could realize it.

Pat: "The only way to beat my crazy was by doing something even crazier. Thank you. I love you. I knew it from the moment I saw you. I'm sorry it took me so long to catch up."

the crazier one for me is out there somewhere. and i'm not being delusional. just hopeful.