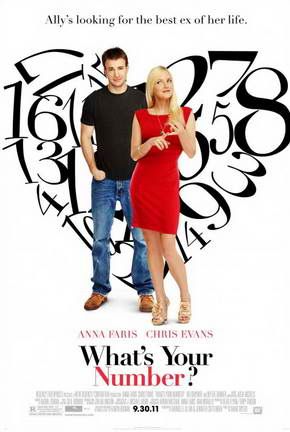 Allison Darling is worried that nothing is going to happen to her love life as her younger sister Daisy is getting married. not only did she just get laid off from her marketing job but she is getting pressured by her mother to bring a suitable boyfriend as her date to the wedding. as if that wasn't enough, she read this article in a magazine that says the average woman only sleeps with 10.5 men in her lifetime and those who reach up to twenty find it hard to find someone they will be with for the rest of her life.

on the eve of her sister's engagement party she vows to stop at twenty only to wake up with the guy who just fired her. so she seeks the help of her front door neighbor, Colin, who like her, has some issues in dealing with relationships. she tries to find all the previous guys she has been with in the hope that one of them may still be single and better off now than when she first dated them.

she and Colin hit it off so well but her premise is that she already wasted her life with twenty other assholes like him who cannot be with women for twenty-four hours without sleeping with them. then she reconnects with the first guy she ever dated (because Colin did find him after all), Jake, this really hot guy you really want to bring home to mommy. but then he cannot accept her for who she is. she gets back with Colin and it is presumed they live happily ever after.

of course, like her, in my head, i was counting the guys (and yes, the girls) i have been with and while watching the movie, it has occurred to me that i may have already let "the one" get away or maybe i will never find "the one". the culture here in the Philippines, no matter how westernized we have become, still believes that a woman should only sleep with the guy she is married to. while i don't necessarily believe that, with the growing population of great looking intelligent gay men, i'm running out of options very fast. then there's also the fact none of the guys i ever dated really considered me to be their "one" so . . .

like Allison, i'm not perfect. i have had my share of assholes, hell, i'm perpetually attracted and attached to them, despite my best efforts. but it doesn't mean i deserve a decent guy any less than the next girl. i'm damaged and i may want someone equally damaged but only damaged enough to understand that i'm not perfect. because nobody is.

" . . . i'm not like the girls that you've known, but i believe i'm worth coming home to . . ."
Tori Amos, Sleeps with Butterflies

i haven't given up hope that i will find love someday or that love will find me. the number shouldn't matter.

***

one of the songs featured in the movie was this song. it's funny, it's cute and even if all the guy really wants to do is get you to bed, with the way he sounds and the honesty he portrays, you just might want to have that one-night stand.

Wicked Way
Ben Taylor

I just want to take you out and get you drunk so I can have my wicked way with you
i'm just being honest 'cause I know the other guys are thinking just the same way too
And i'm not gonna lie and say that I will take you out to dance
there's just no chance 'cause I don't even like the same music you do
I just wanna have my wicked way with you

So don't you fight it
Cause I know you're gonna like it
Show me some skin I might bite it
I wanna have my wicked with you.

So i'm not gonna come over and meet your mom and dad
They know that I was bad
I don't want to meet your friends or just pretend I like you
And I don't want to talk about what happened on your favorite tv show
I just want to get you close enough so I can take off all your clothes
And i'm not gonna make you cry or break your heart girl we don't have the time
i'm just thinking of three hours or more
So I can have my wicked way with you

don't you fight it
don't knock it 'til you've tried it
Show me some skin I might bite it
I wanna have my wicked way with you
My wicked way with you
My wicked way with you.