if we had better seats, i wouldn't have dozed off in some of the scenes. i feel bad that i did.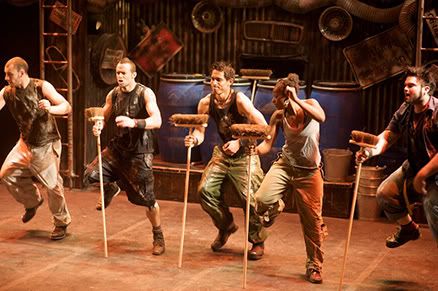 the show was magical. they were amazing. these great artists made music from the most unlikely objects: brush brooms, trashcans, matchboxes, lighters, sand, newspapers, tires, water containers. everything. i dozed off several times since i had to slouch to get a better view so "everything" should cover it.




minus the part we were in the cheap seats (of course, you are surrounded by cheap people - sorry, i mean, those people who like to do annotations of everything going on because one or two people from their group couldn't get it - i didn't mean poor and uneducated) given the limited number of performances they had here in Manila and everybody just wanted to see them, it was one of those best shows i have ever seen in my life.

they were hilarious. each and everyone of them had a way of captivating the audience and getting them hooked. when they were done, the audience was begging them for more. it was worth the long commute, the slouching, the stiff neck i now have.




i hope to get the chance to see the show again. with better seats. other than that and some initial "hassle" we encountered, i loved the show.

*pictures taken from www.stomponline.com*