it always rains on my birthday.
today, it's not just rain. there's a storm. hopefully, it means that i will be "stormed" and "inundated" with blessings.
***
i was touched when you said that my birthday is already in your heart. i honestly thought you were too busy you forgot. sorry i had little faith in you.
***
call me a pompous bitch but if you're going to watch a play, especially at the Cultural Center of the Philippines, then you should be dressed for it. if you're taking third year high school kids on a field trip, you should know better, you should tell them that theater isn't like the movies.
when i was in high school, we watched Ibong Adarna in first year, Florante at Laura in second year, Noli Me Tangere in third year and El Filibusterismo in fourth year. this was how the work of Jose Rizal, along with other Filipino literature, was introduced to us. it might just be me, but like i said, if you're going to bring these kids to watch theater, so that they can learn to appreciate the art behind what it is, then you should also educate them about how they should dress and act when watching it. it's bad enough that theaters require funding and so many people do not appreciate the art anymore, but to not teach kids how to act/react effectively when seeing them is very disappointing.
***
i was really sad that Jerald Napoles wasn't the guy playing Elias in the Noli i saw. no disrespect for the actor playing in this show, but i thought that there was a height match up for Juan Crisostomo Ibarra played by Gian Magdangal and Jerald. he would be a huge Elias to Mark Bautista's Ibarra.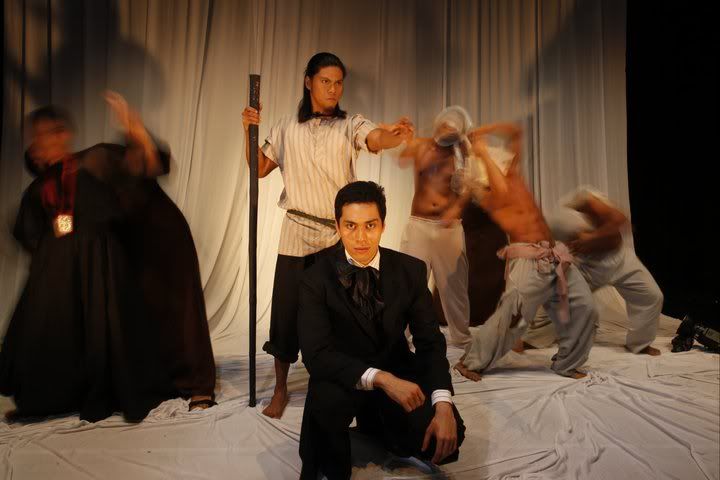 this would've been the match up i was hoping for. yes, i am more after proportion than anything else. plus, i have a crush on Jerald Napoles, and it's my frigging birthday. it's raining, no, there's a storm out and it will cost me another P300 for a cab to go home after this play, not to mention, how much it cost to watch it, on my birthday, when i could've just stayed home and slept. the least the cosmos could do, since i wouldn't really end up living happily ever after with the one person i want was to allow me to watch the play with my favorite actor, right?
oh well, next time, Jerald.