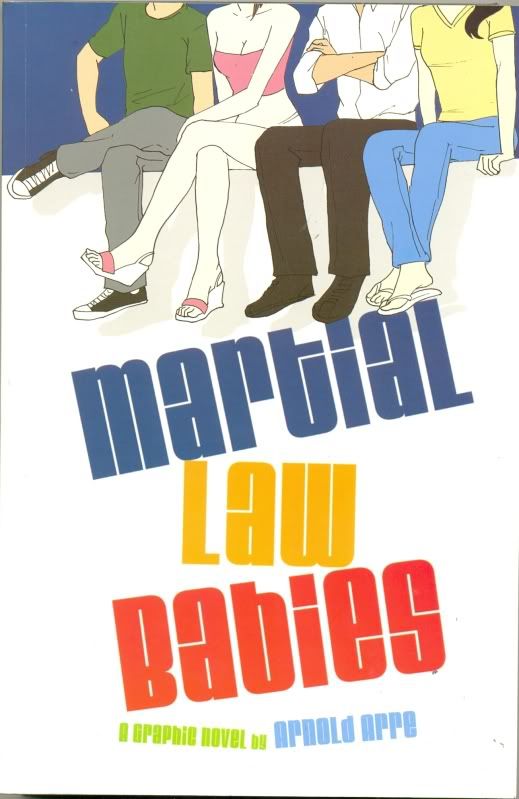 i finally finished reading this graphic novel entitled Martial Law Babies. it caught my attention after Erwin Romulo wrote about it in his column. i don't really get to visit the bookstores anymore long enough to check a good book on my own so i rely on recommendations from friends and really good writers. plus, the cover was really nice and the first pages really got me hooked because it starts where the two main characters, allan and rebecca, are blogging. they're bloggers like me.
i appreciated the sarcasm of the book and how i am supposed to relate to it because it was written by someone from my generation about my generation. it spoke truly of what the people from that generation feel like that i wish i wrote it myself. it got really close to home, especially about this neverending chasing going on with allan and rebecca. it was swell reading it, then it hit me, hard: damnit, this sounds awfully familiar. oh, i know why, this has been happening to me for the greater part of my adolescent and adult life.
while it is both entertaining and informative because it speaks to this generation about ours, i got disappointed, not with the book but with the way the situation is here in this country right now. so many people leave because they feel this country doesn't have what it takes to get on its feet. so many people are disillusioned because too many stupid people are running this place. and yes, too many smart men are running after insipid women.
i like the book. the love story is both cute and irritating, but only because i can relate to it so well.
YOU: what does your generation have to say?