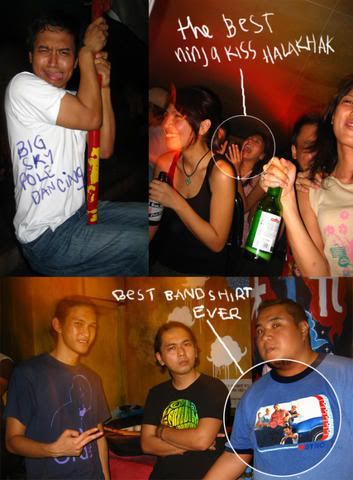 i went over to Route 196 (formerly Inihaw Republic) to watch Ace and Bagetsafonik perform. i finally got to see my first Ninja Kiss. aside from the Bagets, the show featured Analog (with my tukayo Annabel Bosch on vocals), Stonefree and 80's cover band The Ronnies (with Ene on vocals and Ronnie on keyboards, i'm sorry, i don't really know everybody).

it was fun and i finally got to meet Marge, Ace's girlfriend, and she was really nice.

i didn't really know most of the songs that they did, except for Ace's band, of course, because i don't really get to watch gigs that often. Ace even forgot the lyrics to Halogen, imagine that. according to Marge, the Bagets have a 3-beer limit, or else they mess up. apparently, no beer is also not good. the more familiar songs i recognized were Bahala Na, which is a song by Annabel's former band Balahiboompusa, performed by Analog; Listen and Sayang from Stonefree (which they mixed up a bit by singing bits and pieces of Whenever You Need Somebody, Another Day in Paradise, Cry For Help) and a lot of 80's songs from The Ronnies, of course. they did Heart of Glass, I Touch Myself, Kung fu Fighting (yes, they did!), Alone, Tainted Love, among others, oh, and that song that plays during the end credits of Voltes V. yes, that song. they jammed Foolish Heart, Sweet Child of Mine, and Miro of Stonefree jammed Careless Whisper with them. wow.

i liked the show so much, i plan to watch the next production.

but i didn't see a damn pole dance.