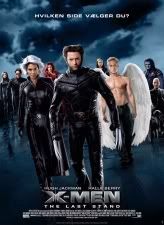 I got to watch X-Men 3 with Brian. It was wonderful. I never really got to follow the cartoon series or the comic books, but I loved the film versions immensely. I loved the way the characters are brought to life. Oh, and Angel, Wolverine and, yes, even Magneto, are sooo hot.

I've always liked Rogue's power, and how she was portrayed by Anna Paquin. I could sense the conflicting issues with her character. It's a great power, but it could feel very lonely, to never hold hands, to never hug, kiss. You know you can do so much with your power in defeating the bad elements in the society, but then you also have the obligation to yourself and you know that if you stay that way, even if you've helped other people, you'll still be miserable because you can't touch anyone. You can never touch the ones you love.

Then there's also Jean. So powerful. That kind of power, that kind of ability has so much responsibilities that go with it and if you're not grounded, you'll just end up killing everybody, as what Phoenix did to Professor X.

It's interesting, how people want to be different while there are people who are different but want nothing more than to be able to fit in. do you stay true to yourself or do you conform?

Anyway, why the hell am I discussing the values of this film? You can find that out for yourself. The movie is so full of action you don't want to go to the bathroom to pee. You don't want to blink. I can't wait for X-Men 4.